It may be December, but there's no snow in sight–at least for us. We don't know about you, but here at the Art Docent Program, we could use a snow day. And since there's no winter weather on the forecast anytime soon in our area of California, we're taking a look at some snowy scenes to get us in that wintry mood. So get those sleigh bells jingling, and join us for an art-historical sleigh ride through some chilly winter scenes!
Out for Christmas Trees, Grandma Moses, 1946.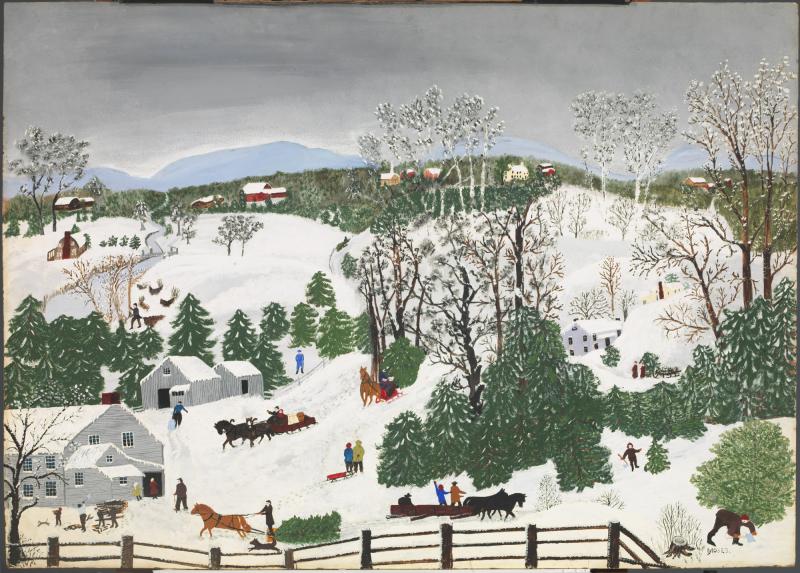 Snow days meet full-fledged holiday spirit in Grandma Moses' Out for Christmas Trees. So what if you've never ridden in a horse-drawn sleigh through snow-capped hills to cut down a tree? When you look at this artwork, you're automatically transported into Grandma Moses' nostalgic winter wonderland.
Caspar David Friedrich, Oak Tree in the Snow, c. 1829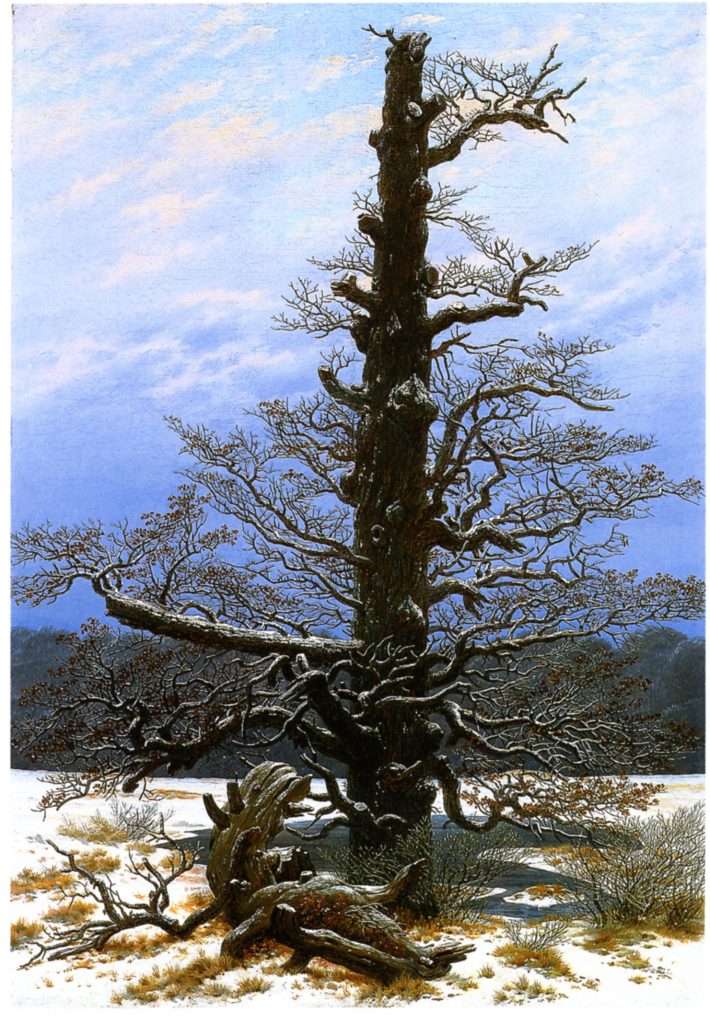 Friedrich certainly loves his oak trees, no matter the season. (He also loves his graveyards in every season too, as evidenced by this year's Halloween post, but we wanted to keep this post graveyard-free.) While it's not an evergreen, it still looks majestic covered in snow on a clear winter's day.
Chikanobu, Children Playing in the Snow under Plum Trees in Bloom, 1887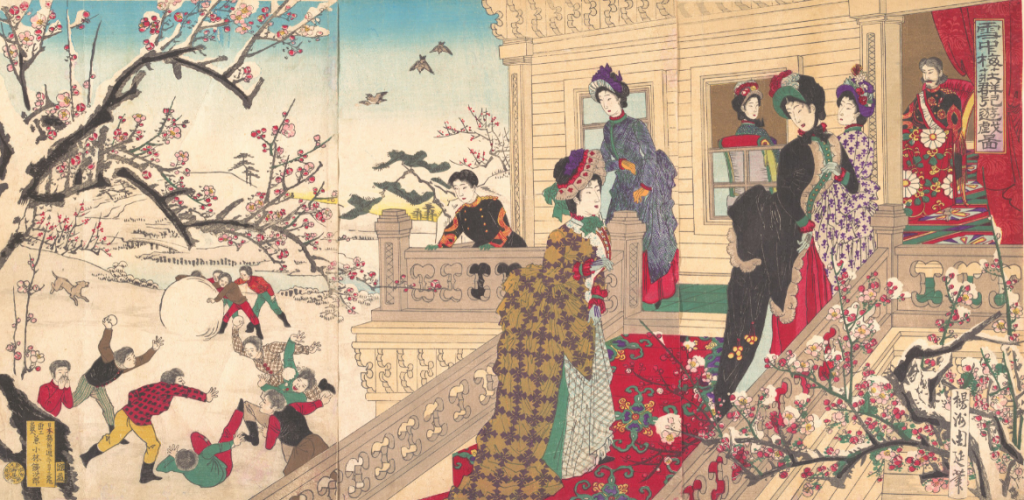 Talk about a winter wonderland! Children frolic and throw snowballs in Chikanobu's Meiji-era work. Their western clothing hints at the changes and exchanges of the period, both artistic and cultural. Sadly, the prince on the balcony doesn't join in–as the Met points out, he was often plagued with illness, thus explaining why he might be sitting out the fun times. Children Playing in the Snow captures that childhood joy that hits with winter weather, which is why we wish we could step into it.
Henri Masson, Hockey, 1940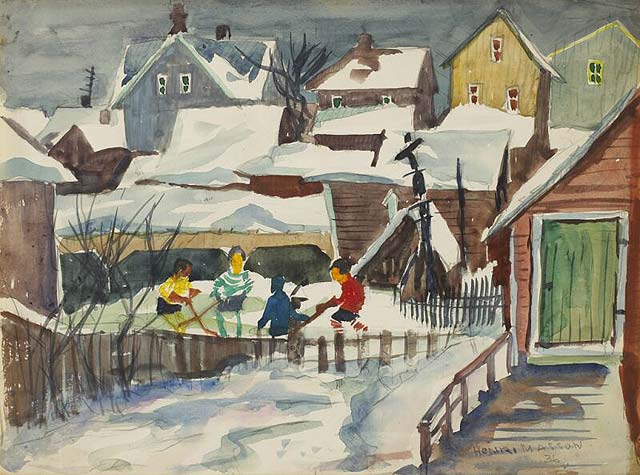 Does this painting look cold enough for ya? Henri Masson, who was born in Belgium and worked in Canada, was no stranger to the cold. In this painting featured in our second-grade curriculum we see some kiddos braving temperatures that look frigid–what with the contrast of reds and whites–for the love of the game. Makes you want to bundle up, doesn't it?
Andy Goldsworthy, Snow Sculptures/Touching North, 1989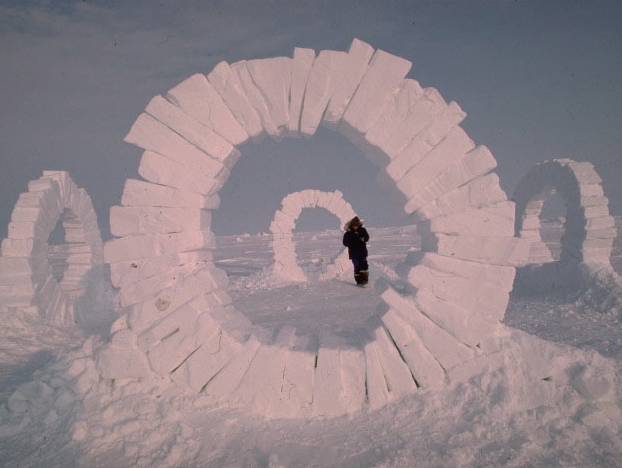 In case you thought the last artwork was cold, we've got something even chillier for you. Environmental artist Andy Goldsworthy creates artwork that just feels right in certain seasons, like these sculptures certainly do for winter. In 1989, Goldsworthy created four ringed snow sculptures which sit around the North Pole. Since visiting is a little difficult for those of us who aren't Santa Claus, he put together a book of photographs of his ephemeral works titled Touching North. Chilly!
Childe Hassam, Fifth Avenue in Winter, c. 1892-1901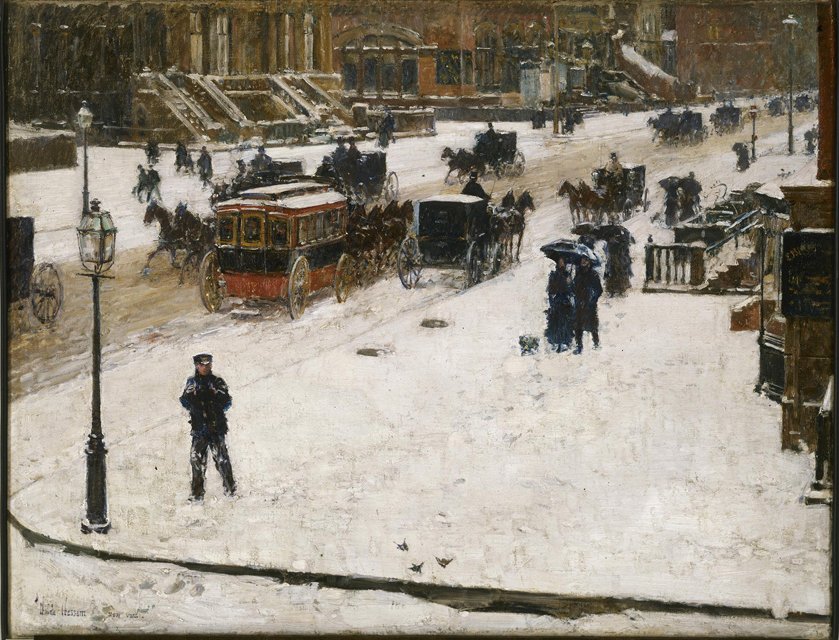 There's nothing like the holidays in New York, especially not when they're painted by Childe Hassam. Capturing New York in its slushy, dirty, busy glory, Fifth Avenue in Winter (which is featured in our third-grade curriculum) remains relatable today…so much so that it's got us in the mood for a round of Home Alone 2: Lost in New York.
Georgia O'Keeffe, Winter Road I, 1963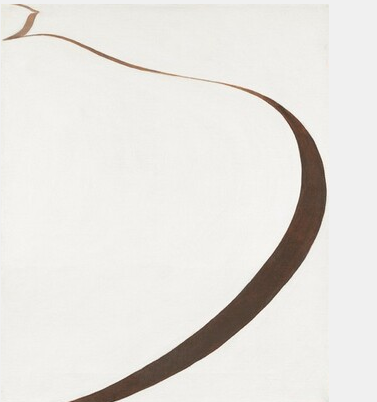 There's many reasons why we love Georgia O'Keeffe, and her ability to switch styles as the mood suited her is definitely one. Winter Road's contrast of white and black–an abundance of snow against a lone ribbon of road–makes for a minimal interpretation of a snowy scene. Or, maybe, a silhouette of a pregnant woman. Your choice–if you think so, you wouldn't be the first to read more into O'Keeffe's work.
Hendrick Avercamp, Winter Scene, 1608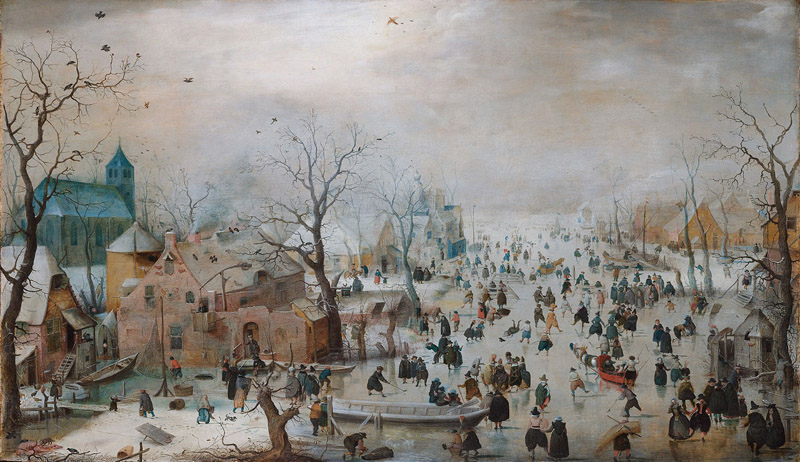 The cold doesn't seem to stop the members of Amsterdam from daily life in this painting! People scuttle to and fro along the ice, skating and working. This work, featured in our fifth-grade curriculum, makes us wonder if 17th-century Amsterdam was as busy around the holidays as most Targets are during December.
Stay warm out there, Art Docent Program family! We wish you the merriest of holidays, and a happy new year!
Want more winter madness? Check out these great articles from the BBC and Sartle!
What do we do here at the Art Docent Program? Discover more about us here!
Want more fun art roundups? Check out the rest of our blog!