It's Halloween, which means that today, we're taking a look at western works of art that fall under the category of "spooky." Since different art can be unsettling for different people for various reasons (see also: my aversion to Francis Bacon's Figure with Meat), our article will look at what's generally considered appropriate for Halloween-time–graveyards, witches, moonlit landscapes. You know, classic spooky stuff. So read on…if you dare!
The Abbey in the Oakwood, Caspar David Friedrich, 1809-10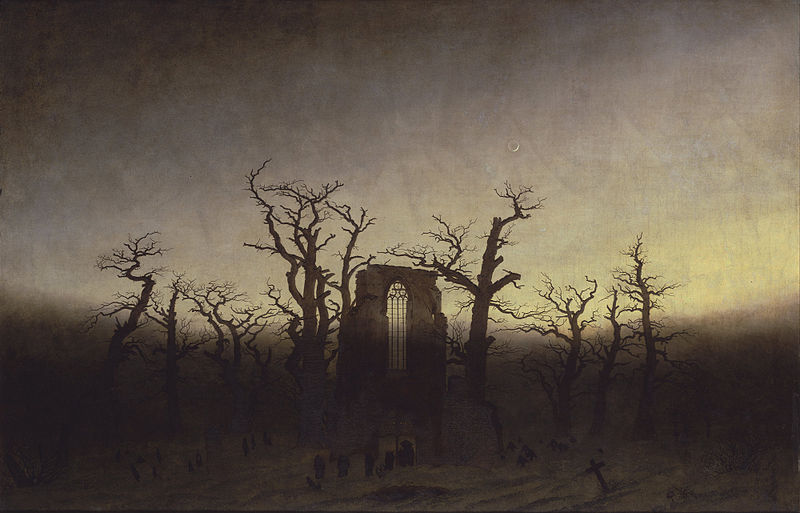 Nothing says "spooky time" like a ruined church in a field full of twisty trees at twilight! Friedrich, a Romantic, really knows how to get the party started–his landscapes showcasing the power of nature often feature graveyards and lone figures dwarfed by their surroundings. You'll be happy to know that a more tame work of his (Tree with Crows) is featured in our second-grade curriculum.
The Nightmare, Henry Fuseli, 1781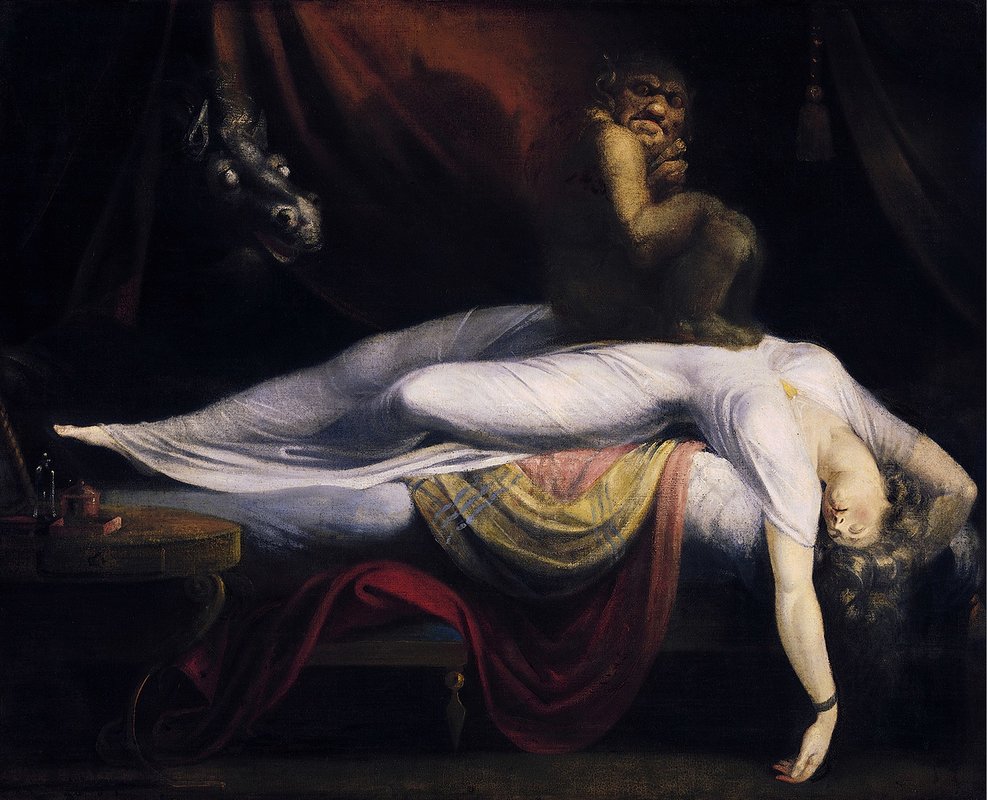 The creepy painting to end all other creepy paintings, The Nightmare is understandably terrifying. Yet it was one of the first works of western art to dive deeply into the strange world of dreams. From the prone pale woman, the crouching demon, and the disembodied horse head, it's easy to see why this painting scandalized its audience. If this version isn't enough for you, don't worry: Fuseli painted three other versions, perfect for haunting your waking hours, too.
Dead Leaves, Remedios Varo, 1956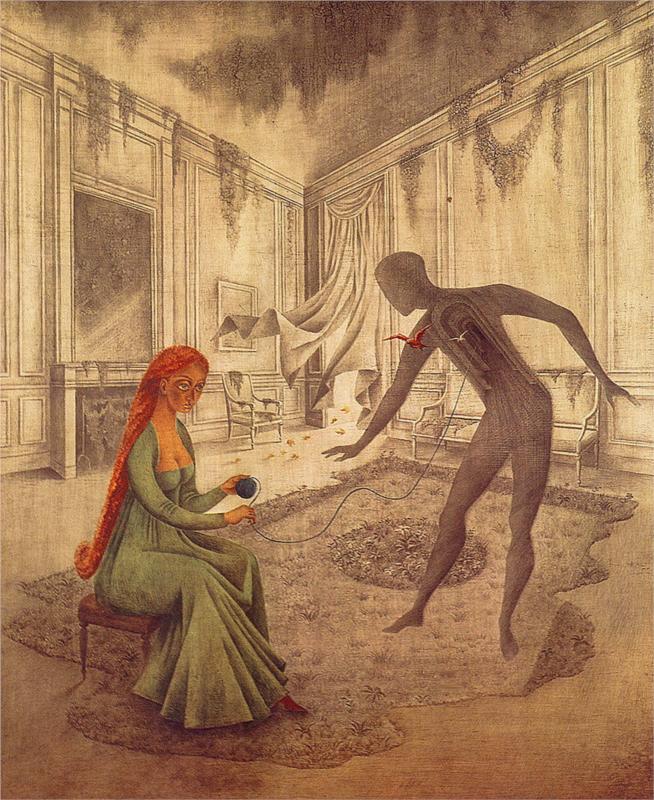 What would you do if, while sitting in a ruined room with plenty of overgrowth, your yarn led you to dark hallway within a shadow-person-who's-probably-Death's chest? This subtly-unsettling painting by Surrealist Remedios Varo asks exactly that. We struggled with which Varo painting to include: much of her artwork is quietly unsettling in a not-unpleasant way, like Allegory of Winter and The Call. Keep an eye out for a future Artist Spotlight on this fascinating artist!
Four Witches, Albrecht Durer, 1497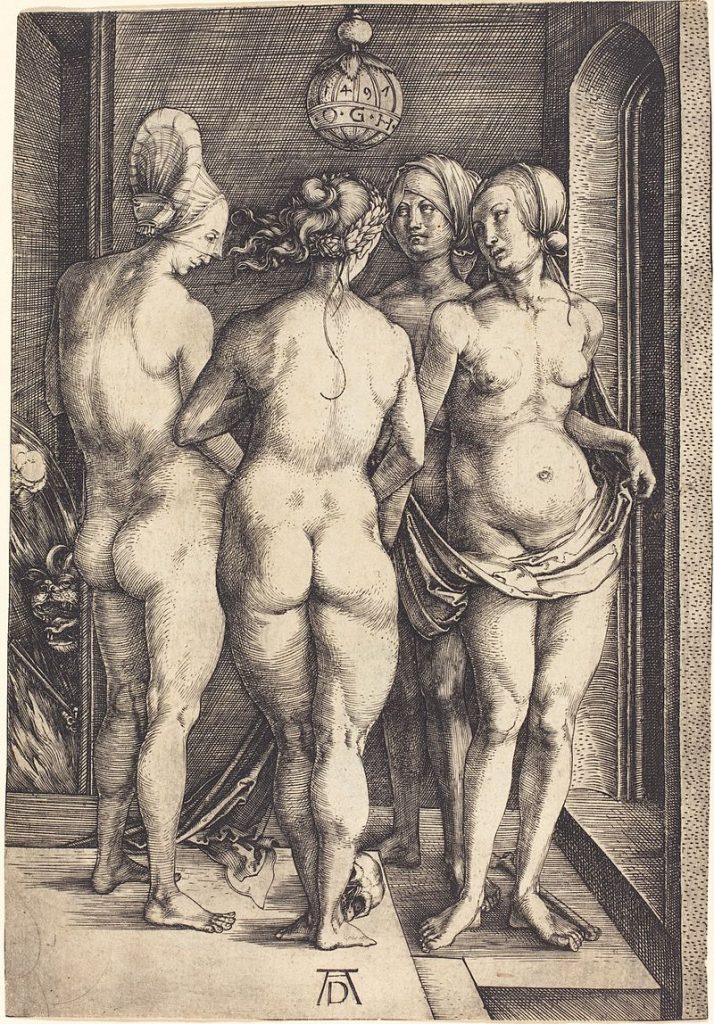 Because we thought Goya's witches were a bit too dark for this blog, we've got Dürer's instead. From a Muppet-like demon peeking out from behind a wall to the women's headwear, this engraving is enigmatic because the witches don't really seem too witch-like. And also begs the question: is the creepiest part of this scene that we're watching four nude women without their consent?
El sueño de la razón produce monstruos , Francisco de Goya, 1805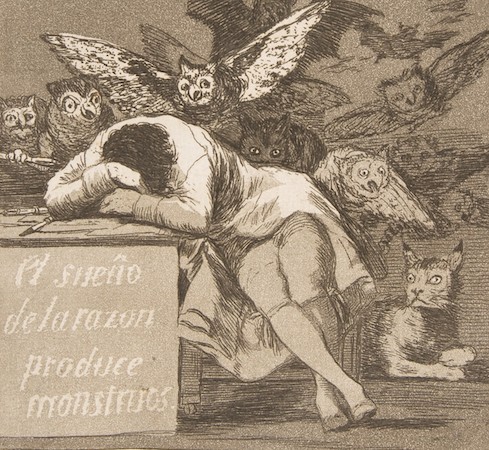 After mentioning Goya, we realized we couldn't leave this gem out. As a man sleeps, horrifying shapes and creatures form around him. The translation of its title, "El sueño de la razón produce monstruos," begs the philosophical question: is it really the sleep of reason that produces monsters, or the dream of reason that produces monsters? Food for thought.
King and Queen, Henry Moore, 1952-53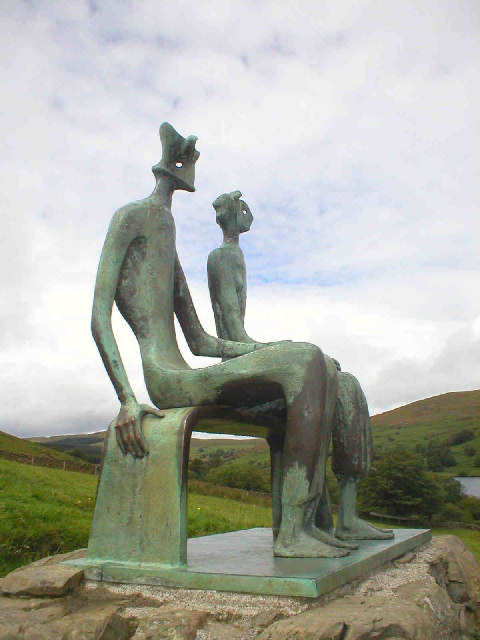 Yeah, they look harmless now, but trust me–if you see them after dark, you'll be wishing you hadn't. Sometimes-Program-writer Donald and I voted a version of this sculpture the Most Likely Sculpture in the Norton Simon Sculpture Garden to Come to Life and Hurt Us.
Two Men Contemplating the Moon, Caspar David Friedrich, c. 1825-1830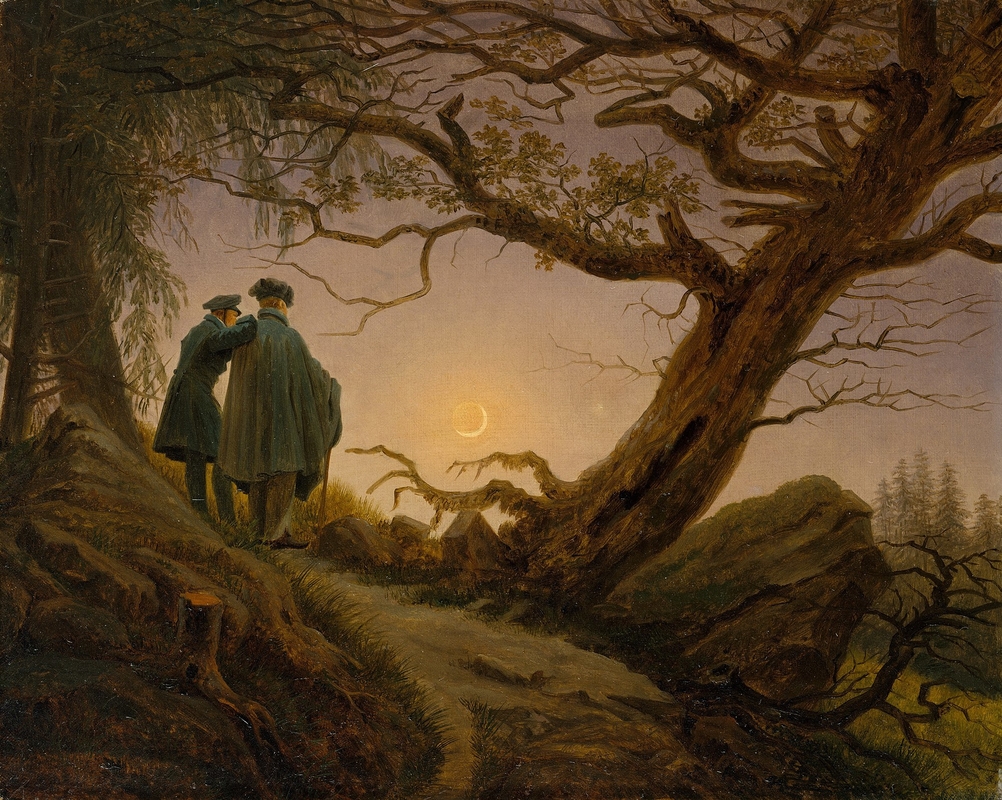 Two Friedrichs for the price of one! We couldn't end our Halloween post without including a moonlit forest landscape. The two men who think talking about the moon is more rewarding than trick-or-treating are just extra fun. Happy Halloween, Art Docent Program family!
---
Need more Halloween and Día de los Muertos fun? Check out our blog posts on art-historical Halloween costumes, the art and icons of Día de los Muertos, and master altar-builder Ofelia Esparza!
What do we do here at the Art Docent Program? Discover more about us and our curriculum here.
Want to read more about these artists? Sartle is a great place to start.
This post was inspired by The Art History Babes' podcast on witches in art history (NSFW) and other past spooky podcasts. Check out their podcast here!