As we all know, due to the current global health crisis, most of us are either unable to (or don't want to) go out to our favorite places–even though a lot of us now have some free time to do so. Which is why the Art Docent Program blog is taking you on an art-historical journey to some of your favorite places this summer! Join us as we look at art focused on places like the beach, the theater, and other places we can't all make it to at this time.
Our non-bummer artistic summer is in full swing here on the blog, and you're invited to join us for the (virtual) ride! So pack up and let's hit the big time, kid–we're headed for the city!*
Paris Street; Rainy Day, Gustave Cailleboitte, 1877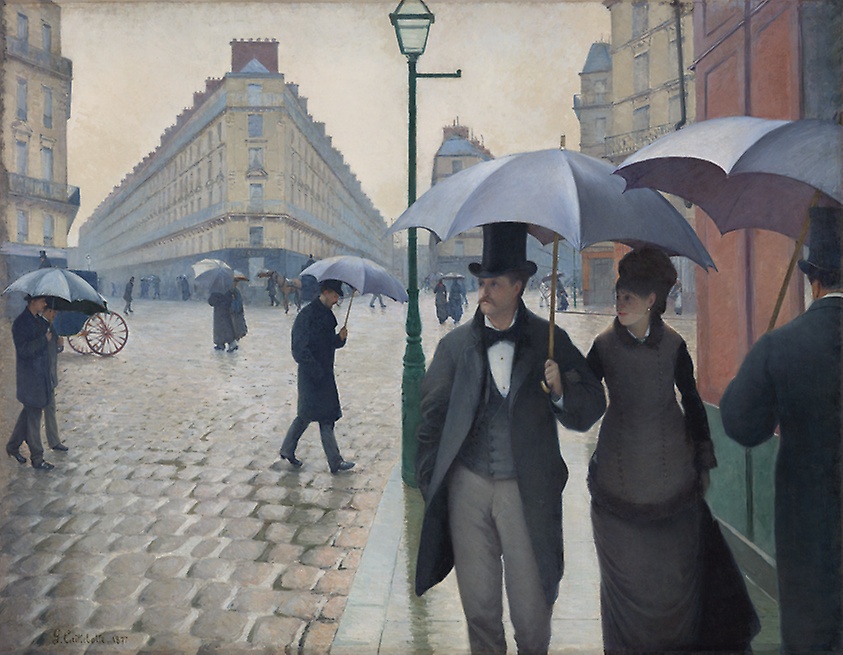 This massive painting shows us not only slick Paris streets, but reflects the growing nature of the then-epicenter of the art world. Calilleboitte is featured in our kindergarten curriculum.
Migration Series (#1), Jacob Lawrence, 1940-41
For many people, the idea of a city is synonymous with a promise of a better life. Jacob Lawrence's Migration series especially Migration (#1) encapsulates the idea of promise northern cities held in postwar America for African-Americans from the south. The series also focuses on the harsh realities of city life for African-Americans, reflecting many aspects of American culture (for better or for worse) with striking intentionality. The Khan Academy has an excellent video on the entire series, which we've included above. Lawrence is featured in our first and fourth-grade curriculum, and in our third-to-fourth-grade African-American Storytelling unit.
Moving Day (in Little Old New York), Unknown Artist, c. 1827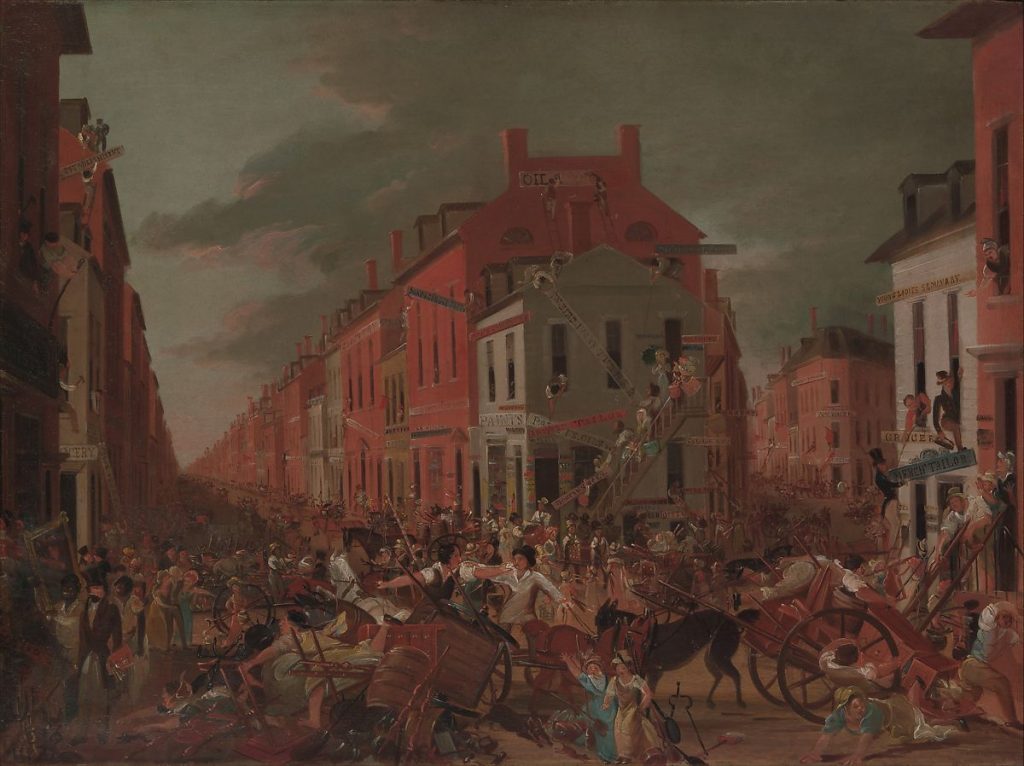 Apparently, back in the day, leases in New York expired on May 1st, which made for a tumultuous scene, as captured in this painting. Crowds throng the streets in various stages of moving, capturing hustle and bustle like no other.
America Today mural series (especially City Building), Thomas Hart Benton, 1930
You'll likely recognize Thomas Hart Benton's America Today mural series, especially the iconic City Building panel. Since it's massive, we've included a video about the mural from the Met(ropolitan Museum of Art) as that's a better introduction than an image of one section of the series would be. As the video notes, Benton's work explores not just the thrill of city life and ideas of "progress" and "Americana," but the darker aspects of city life, rural America at this moment in time, and the implications of "overconsumption" in the face of the Great Depression…which makes it a complex series that's especially relevant today.
The Making of a Fresco Showing the Building of a City, Diego Rivera, 1931; Detroit Industry Murals, Diego Rivera, 1931
Okay, we know, this is two murals for the price of one…but we simply couldn't choose between them! Rivera's murals are fascinating representations of the cities in which they're located, we didn't want to leave any out. The Making of a Fresco juggles big ideas about the nature of painting, while Detroit Industry glorifies the workers who transformed the city into a manufacturing hub and then so much more (an especially interesting depiction, considering the onset of the Depression). And since the latter is a larger mural, a video introductio (c/o Vassar) is better suited to give you an idea of the artwork, which we've included. You can read in detail about both at Sartle, DIA, and the Khan Academy. Rivera is featured in our first, third, and fourth-grade curriculum.
Broadway Boogie Woogie, Piet Mondrian, c. 1942-43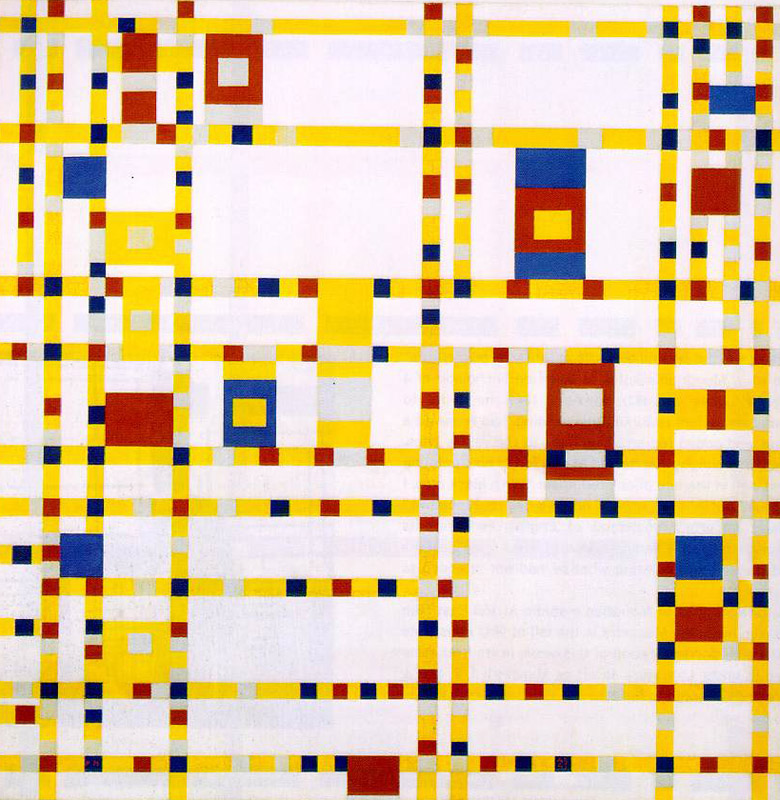 This abstract take on one of America's most famed streets nails the whole "bright-lights-big-city" thing. Mondrian is featured in our second, fifth, and sixth-grade curriculum.
Radiator Building–Night, New York, Georgia O'Keeffe, 1927 IG
Yes, Georgia O'Keeffe painted more than flowers–she even painted a whole series of city scenes like this one. O'Keeffe is featured in our first, second, and third-grade curriculum.
Nighthawks, Edward Hopper, 1942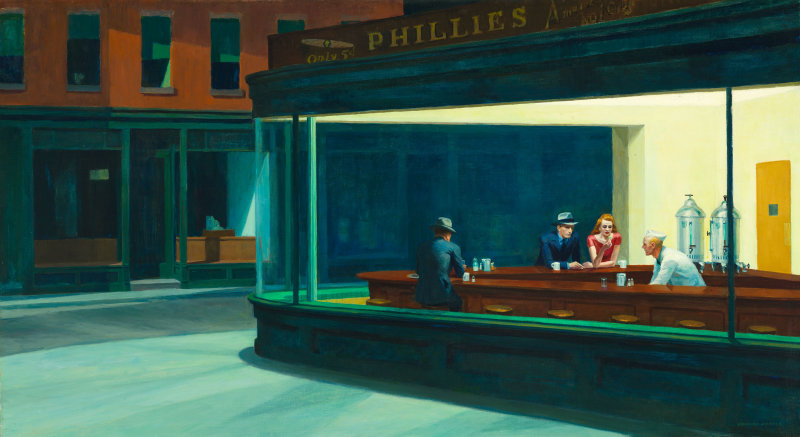 Nobody does cities and loneliness quite like Hopper. And even though Nighthawks is pretty much a meme by now, it's still a powerful commentary on the solitary side of city life. Hopper is featured in our kindergarten, first, and fourth-grade curriculum.
---
*For any given major or minor city in the country, there's a bevy of art depicting it. Though many of the works here deal with New York (as it's been the epicenter of the global art world for awhile now), we're not partial to it alone, as we've included artwork depicting some of America's other cities as well. We encourage you to look into the art history of your city or region as well, as we're sure there's just as much to look at in any given neck of the woods!
What do we do here at the Art Docent Program? Discover more about us here!
Want more art field trips? Check out our blog archives for more!