As part of our efforts to spotlight artists that are included in our new curriculum, this week, we're exploring the artwork of Wendy Red Star. Red Star's 2016 Coyote Decoy with Pendleton Blanket is featured in our new bonus 5th-6th grade Native American Art unit. In addition, we'd seen some of Red Star's artwork on display at the Palm Springs Art Museum (which we touched on in our Kinesthesia & More blog post) and couldn't wait to share even more about the Portland, Oregon-based artist.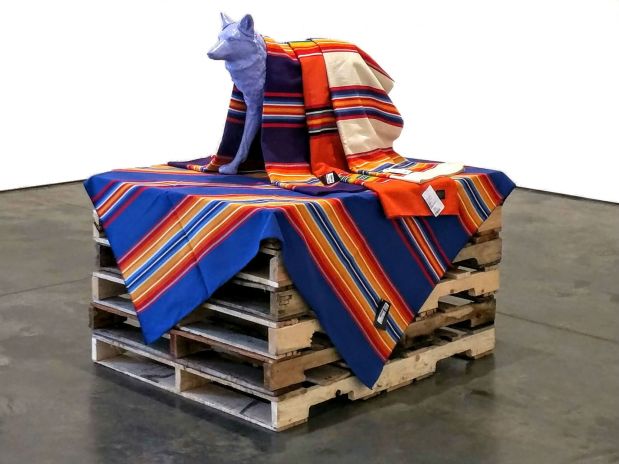 Wendy Red Star was born in 1981 and grew up on the Apsáalooke (Crow) reservation in Montana. After attending Montana State University, she went on to pursue an MFA at UCLA and graduated in 2006. Well-versed in American pop culture and Crow tradition, Red Star began to combine the two in her artwork. Though at first she faced criticism, as her peers and instructors weren't sure what to do with her art, Red Star went on gain critical acclaim and exhibit her work in museums all over the country, including at the Metropolitan Museum of Art in New York City. With artwork in media ranging from photography to video to sculpture to fiber arts to performance, Red Star brings a fresh, questioning voice to the contemporary art scene, letting her Native American identity and identity as a woman speak through her artwork.
Humor often plays a significant part in Red Star's artwork, which she credits to both upbringing, as telling jokes is a large aspect of Crow culture. In an interview, Red Star told Aperture that she comes "from a humorous background, not just my Crow side, but my Irish side as well. I've always seen things through this ironic lens. I'm always laughing…Humor is healing to me…To have that element in my work is quite Native, or Crow, and I'm glad that it comes through. It's universal. People can connect with the work that way. Then they can be open to talking about race."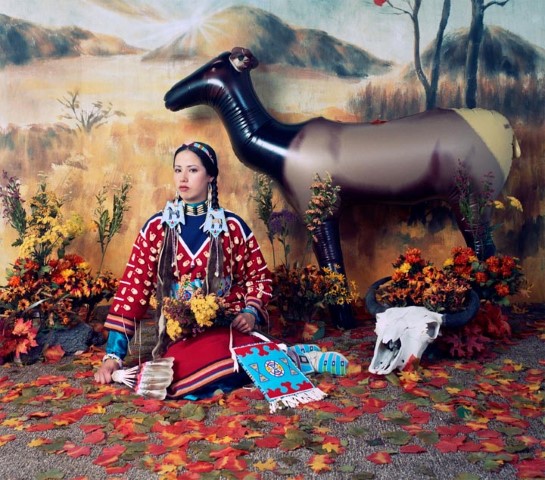 Red Star's subversive humor is especially in full display in Four Seasons (2006), White Squaw (2014), and The Last Thanks (2006). In her Four Seasons photo series, Red Star poses in Apsáalooke Crow dress among idyllic backgrounds among obviously-fake animals and props, poking fun at the long-held idea that Native Americans are "at one with nature." White Squaw features shots of Red Star wearing a generic Native American costume, striking a variety of satirical poses digitally manipulated onto the covers of an utterly cringe-worthy "adult western" romance novel series published in the 1980s and 1990s. One of her most attention-grabbing and personal works to date is The Last Thanks, which shows Red Star seated at a table, surrounded by Native American skeletons as she digs into a delicious meal of pre-packaged and canned treats from Hostess, Little Debbie, and Hormel. Those foods, Red Star tells Cowboys & Indians, were actually what she'd eat at her paternal Crow grandmother's house growing up, making for a darkly humorous yet personal look at the legacy of conquest and Thanksgiving. Most recently, Red Star has worked on a photo series called Apsáalooke Feminist, which features her and her daughter in full Crow dress against a surreal background exploding with color. She also created the hashtag #ApsáalookeFeminist in order to highlight the fact that there should be room in the feminist movement for Native American women, as she told NEArts Magazine.
No matter the medium she's working in, Red Star's artwork is deeply researched, and her humor is always employed for effect. Red Star's artwork creates a way for her viewers to confront the problematic ways Native Americans have been portrayed throughout history and still are today, and opens the door for important conversations about race. And as she's a contemporary artist who's held and curated exhibitions all over the country, there's a good chance either she or her artwork will be coming to a museum near you sometime soon!
---
Discover more about Wendy Red Star and her artwork at her website, and read more in her interviews with Aperture, Cowboys & Indians, and NEArts magazine.
What do we do here at the Art Docent Program? Discover more about us and our curriculum here, and more about our new units here!
Want more art articles and Artist Spotlights? Check out our blog archives for more!
Don't forget to follow us on Facebook for updates and more posts!