Ahh, springtime…when the world is fresh and blooming, and there's nothing else quite like it! Many artists, we're sure, have felt the same way, especially when they're painting en plein air or from life. After spotting an article in Sunset mentioning Frida Kahlo's home and garden, we decided to discover a few other gardens that famous artists tended. So, in the spirit of the season, let's discover which artists' gardens both inspired them and acted as a retreat that are still thriving today!
Frida Kahlo — Casa Azul, Mexico City, Mexico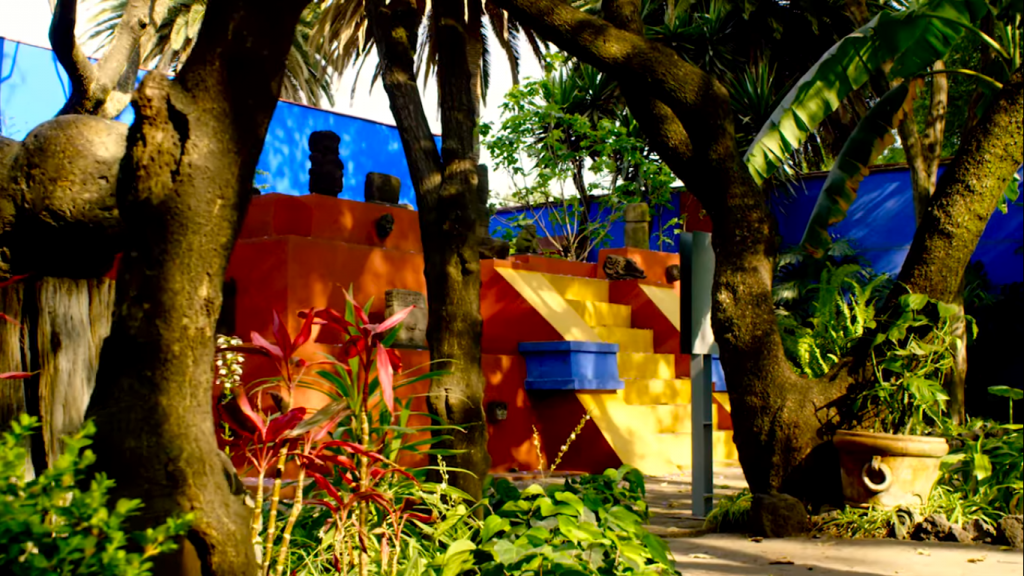 Affectionately called Casa Azul, the Museo Frida Kahlo is housed in Kahlo's birthplace and home. Aside from its explosively colorful and creative appeal, Casa Azul is also home to Kahlo's garden, cultivated according to her and husband Diego Rivera's tastes after Kahlo's father transferred ownership of the house to the couple in 1929. Fruit trees and flowers (some of which, according to Artsy, likely made cameos in her artwork) as well as plants native to Mexico like prickly pear and agave thrive, despite the six decades that have passed since the artist's death. It's easy to imagine Kahlo (featured in our 1st and bonus 1st/2nd grade curriculum) painting from life amid the lush foliage, perhaps with her beloved pets nearby, especially in the glimpses of the garden seen in this video from Christie's…how soon can we visit?
Claude Monet — Giverny, Normandy, France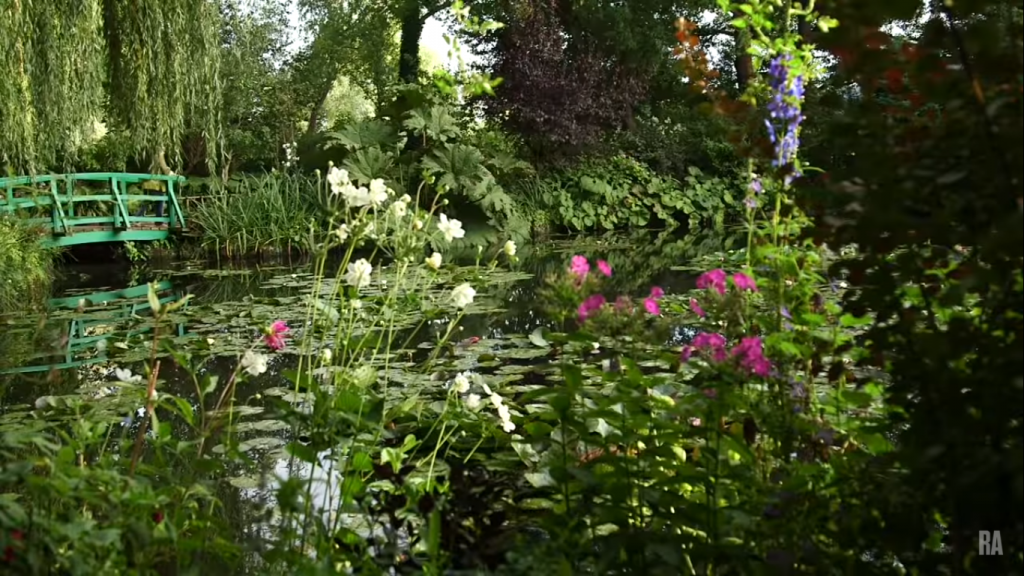 Possibly the most famous garden in all of art is that of Claude Monet's at Giverny. There's, of course, the instantly-recognizable water lily pond, which is what most people come to visit. However, there's so much more of the garden to explore, as Monet (featured in our TK, 2nd, 3rd, 4th, and 6th-grade curriculum) painted almost exclusively from Giverny in the last 20 years of his life. There are way too many photos for us to possibly include to give you that impression (pun intended), so feel free to watch the video from the Royal Academy of Arts below to get a feel for why the artist called this garden his greatest work of art.
Georgia O'Keeffe — Ghost Ranch, Abiquiú, New Mexico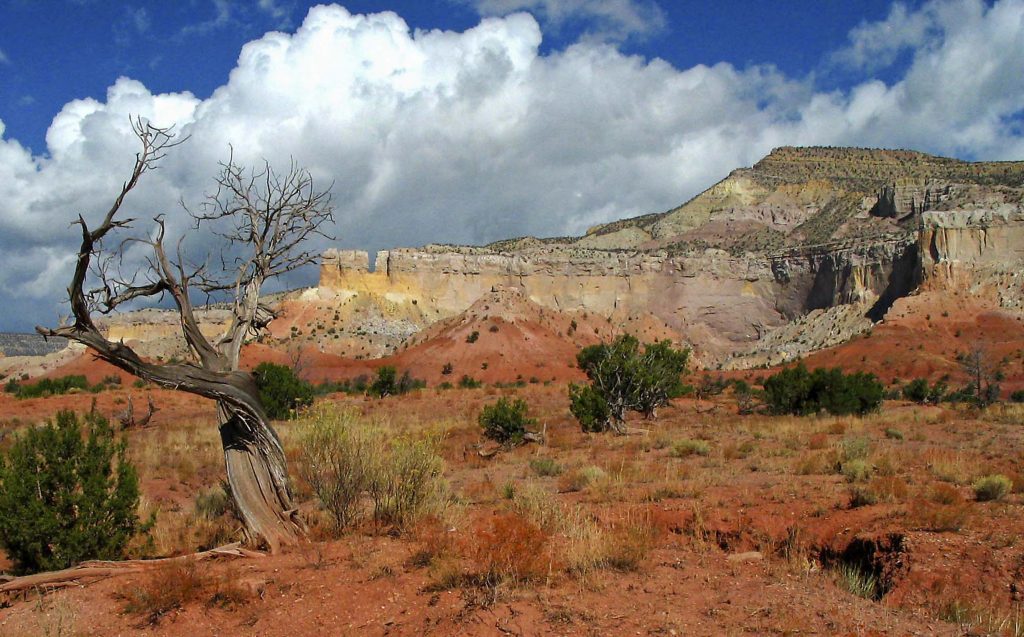 In 1940, Georgia O'Keeffe( (featured in our 1st, 2nd, and 3rd-grade curriculum) bought a piece of land at Ghost Ranch in Abiquiú, New Mexico, to act as her summer home. She would later move to Ghost Ranch altogether after the death of her husband. The garden she planted at Ghost Ranch, with the later assistance of gardener Estiben Suazo, was born from necessity: according to Artsy, O'Keeffe noticed that, due to the ranch's remote location, the produce she bought in the nearest market would be wilted by the time she returned home. O'Keeffe took matters into her own hands and cultivated an organic working garden, from which she harvested kale, chard, apricots, pears, and more, and enjoyed beautiful plants like lilacs and lilies. Even as O'Keeffe's health began to deteriorate, her love for her garden grew: she hired Suazo's children to help maintain the garden, and installed a pathway so she could easily walk among her plants despite her macular degeneration. Both O'Keeffe's and the Suazos' love for the garden lives today, as it remains a working garden that summer interns flock to in order to learn about organic gardening.
Barbara Hepworth — Trewyn Studio, St. Ives, United Kingdom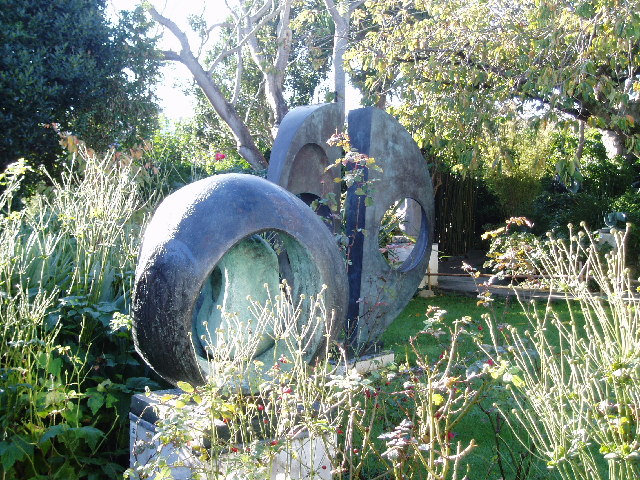 Originally sculptor Barbara Hepworth's home and garden, Trewyn Studio in Cornwall is now home to the Barbara Hepworth Museum and Sculpture Garden. The Sculpture Garden is set in Hepworth's original garden, where she would often work on her larger-than-life sculptures, according to a website dedicated to the artist. As they were transitioning the house into a museum, staff worked carefully with Hepworth's son-in-law to ensure that the garden retained its original sanctuary-like feel while incorporating some of Hepworth's gigantic works (which, according to Hepworth, visitors should touch), according to the Tate. Take a look at Hepworth's studio and a few shots of her garden below.
Beatrix Potter — Hill Top, Near Sawrey, United Kingdom
Strictly speaking, Beatrix Potter of Peter Rabbit fame is both an author and an illustrator. But after seeing her garden at Hill Top in Britain's Lake District, we had to include it. Potter purchased Hill Top with royalties from The Tale of Peter Rabbit, and it's easy to see how her garden inspired her illustrations in works like The Tale of Jemima Puddle-Duck. Thanks to National Trust gardener Pete Tasker, the garden has been restored to its former glory over the past 30 years, with several of Potter's original trees and plants still thriving. Take a closer look in the video below!
---
Discover more artists' gardens at Artsy and the Royal Academy of Arts.
What do we do here at the Art Docent Program? Discover more about our curriculum here, and connect with us on Facebook!
Want more on cool artists, museums, and more? Check out our blog archives!