Ida Skivenes' art career is toasted. Not literally–but kind of literally. The Oslo-based artist recreates famous works of art using pieces of toasted bread as her canvas.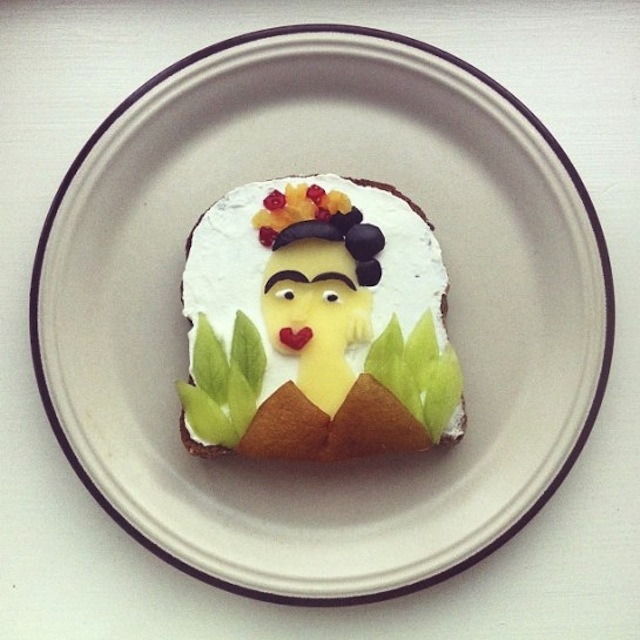 As we've seen with Sarah Gonzalez and Jenn Aguilar, using food as a canvas as sorts isn't a bad idea. Getting kids excited about food and about art is always great. But what if you're an adult who gets bored with routine and is sick and tired of the same old breakfast every day?
That's where Skivenes comes in. She's recreated everything from works by Kahlo, Vermeer, Magritte, and more on her breakfast and lunch plates and posted the results on Instagram for the world to see. And they're, of course, good enough to eat. Who has fun food only has to be for kids? Skivenes' food art combines both her taste (pun absolutely intended) for wholesome, healthy food and her love for art and art history.
But wait–there's more! Skivenes has the kind of food blog you'll actually want to follow. Instead of hyper-contrived pictures of coffee and homemade gluten-free oat bars, Skivenes' blog is aptly titled IdaFrosk: The Food Art Blog and chronicles Skivenes' creations, both art history-related and beyond. Who says that fun food only has to be for kids?
According to her website, these toast masterpieces aren't something you can just whip up. Much like her other non-art-history food pieces, they take at least 30 minutes to create. Skivenes says that she usually creates the art history toast pieces on weekends when she has more time in order for them to look their best. She also makes a special note that she doesn't just create pieces that are "easy to copy" like her other edible art creations–for her art history toast, she creates pieces that she thinks will best spread the "love of art."
Her creations have clearly appealed to the general public. With over 288,000 Instagram followers and a cookbook published in both her native Norway and America, Skivenes' edible art proves that playing with your food isn't an exclusive right just for the kids. And, just as playing with your food isn't as fun unless you can eat it, Skivenes especially points out that she eats everything she creates.
Need more deliciousness? Follow Skivenes on Instagram and her website and check out her cookbook. Also check out the original article on Skivenes on Hyperallergic!
Looking for food art-spiration? Check out our blogs on two other food artists of sorts–Sarah Gonzalez and Jenn Aguilar.
Do we just play with our food? No, we do lots more! Check out more information on what we do here at the Art Docent Program here.