Does a cactus omelette sound appealing to you? What if it was a dish billed "for morning, noon, or night?" And–if you're still not sold–what if it was Ed Ruscha's personal recipe?
Ed Ruscha's cactus omelette, amid a host of other culinary concoctions, is featured in the new Artists' and Writers' Cookbook. Compiled by Natalie Eve Garrett, the book features recipes and short essays from 76 contemporary artists and writers.
According to Hyperallergic, Garrett was inspired to revamp The Artists' and Writers' Cookbook after coming across the 1961 original last year. Garrett told Hyperallergic that the book's tone was quite personal and made her feel as if she were "sharing food and swapping stories with…artists and writers."
The original edition of The Artists' and Writers' Cookbook featured recipes and stories from such varied creatives as Man Ray (the Dada/Surrealist, not the SpongeBob villain), To Kill a Mockingbird author Harper Lee, and the original bad boy of art itself, Marcel Duchamp. Duchamp's lively recipe (and subsequent commentary) for steak tartare was one of the pieces that drew Garrett to the project–as it would make any reader feel as if they'd known Duchamp for years. In addition to contributing, the 1961 cookbook also featured illustrations by Duchamp, Robert Osborn, and Alexandre Istrati.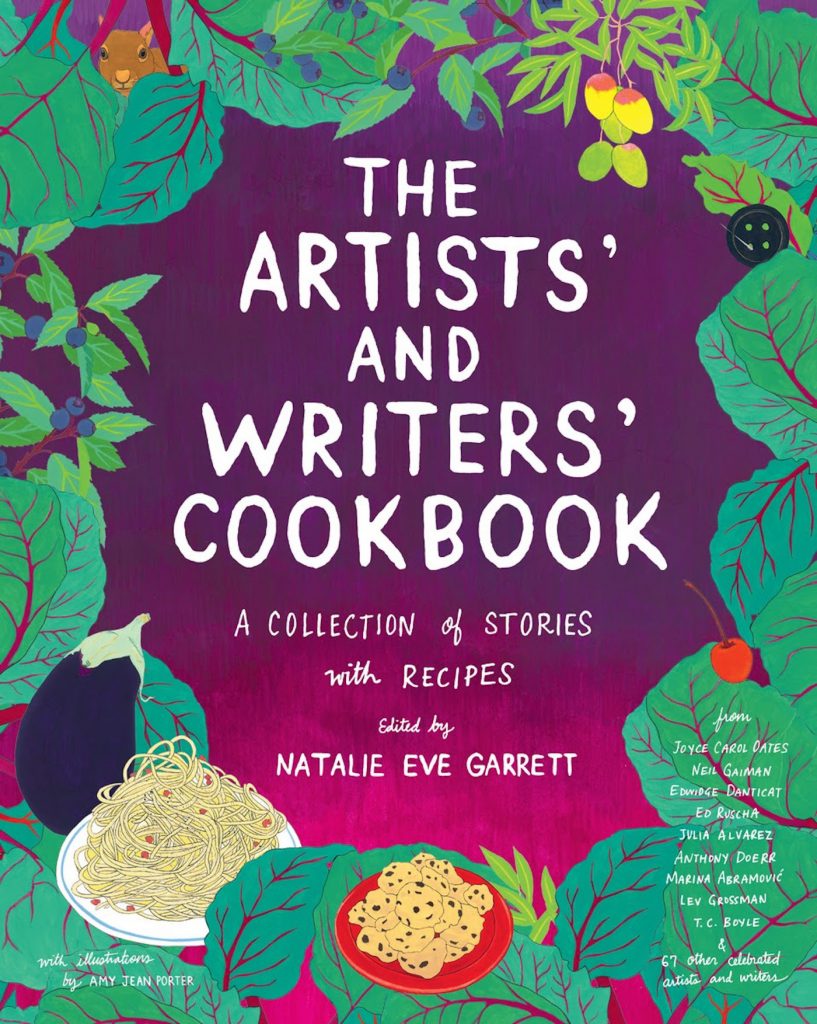 Garrett channeled that personal feel found in the original in the new edition, focusing on the stories behind the meals. Though Garrett did propose that contributors submit a recipe along the lines of something like the "last memorable dish they made or the food they [ate] while writing or drawing or falling in love," she was open to different takes on the idea of a "recipe." According to Hyperallergic, Garrett states that her "only requirement was that each recipe have a story."
The new Artists' and Writers' Cookbook features a variety of contributors sharing the meals that are special to them–including Ed Ruscha's prickly breakfast (or anytime) treat. Writer Joyce Carol Oates, artist Sanford Biggers, novelist Anthony Doerr, and installation artist Liza Lou are only a few of the book's featured contributors–such big names as T. C. Boyle, Julia Alvarez, Neil Gaiman, and Lev Grossman grace the book's front cover. Garrett has also recruited Amy Jean Porter as the book's illustrator, to give it the same sort of feel as the original–right down to the similar purple and avocado colors.
Four excerpts from the updated Artists' and Writers' Cookbook are exclusively available on Hyperallergic–Liza Lou's "Feminist Popcorn," Sanford Biggers' "Red Turn Up," Kamrooz Aram's "The Distinctive Melancholy of Ghormeh Sabzi," and Ed Ruscha's certainly unique "Cactus Omelette." So head on over to their site for an exclusive, delicious sampling–and read Carey Dunne's original article on The Artists' and Writers' Cookbook, as well!
If you're so interested, do pick up a copy of The Artists' and Writers' Cookbook from powerHouse books.
We don't make food that intense every day, but we do much more. Find out more about what we do here at the Art Docent Program.
We do talk about food, though. A lot. Check out a few of our past posts on edible art and lunch sack art, restaurants with artmosphere, art cookbooks, and more in our past blog posts.